Defining new document templates
A new document template is an incomplete plan document, universal for the group of people. Usually it contains predefined hierarchy of categories. For example: each Software Developer has Projects, Articles and Training categories. Available templates list shown on request for new document creation. Select an existent template and start planning.
To include new document template to the list provided template customization dialog.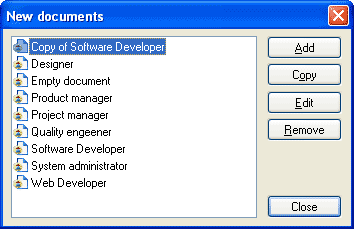 Select a template similar to a template you intending to have. Press Copy button to make copy of an existent template. Rename it accordingly using single mouse click on item and editing. Press Edit button to start customizing the template in another instance of DevPlanner. Customize it and save your changes there. New document template is ready to use.
To distribute your custom template inside of your team click Edit button in the template customization dialog and save the document in any folder you want. After you can send this template by email, place it on a network share, etc.
To add an existent template, prepared by your colleague, press Add button and browse for required template. This action will add this template to your list of templates.
See also
---
Copyright © 2001-2009 Fedorenko. All rights reserved.